Corned Beef and Cabbage - Corned beef and cabbage has got to be the all-time Irish favorite, served by many restaurants around the world on St. Patrick's Day.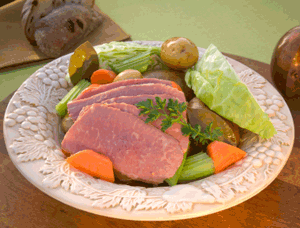 Ingredients:
4 pounds corned brisket of beef
3 large carrots, cut into chunks
6 to 8 small onions
1 teaspoon dry mustard
1/4 teaspoon thyme
1/4 teaspoon parsley
1 head of cabbage
Salt and pepper
Boiled potatoes as a side dish
Instructions:
Place corned brisket of beef in a large pot. Top with carrots, onions, mustard, thyme, and parsley. Fill with cold water, and heat until the water just begins to boil. Cover the pot with the lid, lower the heat, and simmer the mixture for 2 hours.
Using a large knife, cut the cabbage into quarters, and add the cabbage wedges to the pot. Cook for another 1 to 2 hours or until the meat and vegetables are soft and tender.
Remove the vegetables to a platter or bowl, cover with foil, and keep them warm. Remove the brisket, place it on a cutting board, and slice it.
Serve the corned beef slices on a platter, surrounded by the vegetables. Ladle a little of the cooking liquid over the meat and vegetables.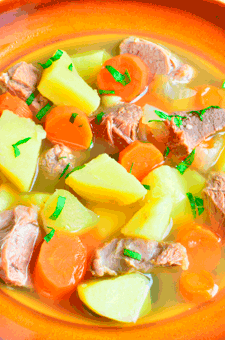 Irish Stew - Irish Stew is another Irish favorite that is considered by many to be the national dish of Ireland.
Ingredients:
4 potatoes, sliced thin
4 medium onions, sliced thin
6 carrots, sliced
1 pound Canadian bacon, chopped
3 pounds lamb chops cut into chunks
Salt and pepper to taste
2 & 1/2 cups water
4 potatoes, halved
Fresh parsley, finely chopped
Instructions:
All ingredients are assembled in layers in a large stew pot. Begin with layers of sliced potatoes, onions, and carrots. Top with a layer of Canadian bacon and lamb. Sprinkle liberally with salt and pepper. Repeat these steps until all the ingredients are used. Add enough water to just cover the ingredients. Arrange the halved potatoes on top of the stew, but not in contact with the water, so they can steam as the rest is cooking. Simmer over a very low heat for about 2 hours.
Sprinkle liberally with the chopped parsley and serve in soup bowls. Makes 4 to 6 servings.
Irish Soda Bread - Another favorite of Ireland, soda bread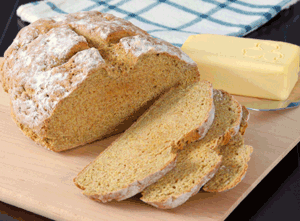 Ingredients:
4 cups flour
1 teaspoon baking soda
1 teaspoon salt
3/4 cup raisins
2 Tablespoons caraway seeds
1 cup buttermilk
Instructions:
Preheat oven to 425F. Mix flour, baking soda, and salt in a bowl. Add raisins and caraway seeds. Add buttermilk all at once and mix.
Knead the dough on a lightly floured board. (To knead, press the dough flat, fold it in half, turn the dough, and repeat.) Form into a round loaf on a well-greased baking sheet. With a knife, carefully mark an X across the top of the loaf. Lay a piece of foil over the loaf. Bake for 5 minutes.
Lower heat to 250F and bake 30 minutes more. Remove foil and bake another 10 minutes, until the loaf is slightly browned. Cut into wedges and serve with butter.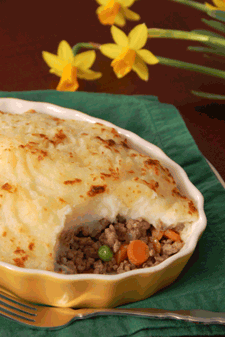 Shepherd's Pie - Shepherd's Pie, sometimes called Cottage Pie, may be considered more a English dish but is commonly served in many Irish restaurants.
Ingredients:
1 1/2 pounds ground round beef
1 onion chopped
1-2 cups chopped carrots, corn & peas
1 1/2 - 2 pounds potatoes (3 big ones)
8 tablespoons butter (1 stick)
1/2 cup beef broth
1 teaspoon Worcestershire sauce
Salt, pepper, other seasonings of choice
Instructions:
Peel and quarter potatoes, boil in salted water until tender (about 20 minutes). While the potatoes are cooking, melt 4 Tablespoons butter (1/2 a stick) in large frying pan.
Saute onions in butter until tender over medium heat (10 mins). If you are adding vegetables, add them according to cooking time. Put any carrots in with the onions. Add corn or peas either at the end of the cooking of the onions, or after the meat has initially cooked. Add ground beef and saute until no longer pink. Add salt and pepper. Add worcesterchire sauce. Add half a cup of beef broth and cook, uncovered, over low heat for 10 minutes, adding more beef broth as necessary to keep moist.
Mash potatoes in bowl with remainder of butter, season to taste.
Place beef and onions in baking dish. Distribute mashed potatoes on top. Rough up with a fork so that there are peaks that will brown nicely. You can use the fork to make some designs in the potatoes as well.
Cook in 400 degree oven until bubbling and brown (about 30 minutes). Broil for last few minutes if necessary to brown.
Serves four.