Throw an all-American 4th of July bash with the most patriotically delicious chow you've ever had! Whether your favorite fare includes traditional barbeque, or apple pie and ice cream, it's easy to have a great family gathering this summer while celebrating your America's independence and enjoying the sunny weather. While the 4th typically includes hot dogs and lemonade, creating your own unique culinary experience isn't hard. Just apply a little national pride and creativity, along with some of these fantastic ideas to give you and your family an Independence Day to remember.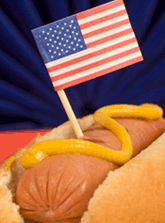 Let the Star Spangled Banner be your guide for the main course of your 4th of July meal. In other words, try adding a little more red, white, and blue literally to the table by garnishing your grub with tiny American flag tooth picks on your hot dogs and burgers, or lining a serving dish full of grilled chicken, fish or vegetables with strawberries and blueberries to bring some Americana decor to each plate. Another fun way to honor our flag is to top a home made or store-bought pizza - preferably rectangular-shaped - with sliced olives and pepperoni or tomatoes arranged to look like the American flag. Use the olives for stars and rows of pepperoni for stripes and you'll have yourself a 4th of July favorite.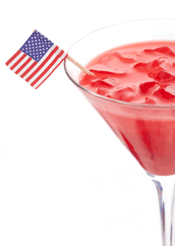 What would the 4th of July be without a cool, refreshing beverage to top off an evening of saluting flags and admiring fireworks? It definitely would not be the ideal summer celebration. Whether you whip up some tropical punch, smoothies or ice cold lemonade, make sure you surprise your party guests with plenty of beverage options to toast to America's independence. Try serving two cool beverages, one red and one blue, each in a drink dispenser which you can buy at a department store. Or if you want to get more creative, experiment with ice cubes by pouring red or blue juice into an ice tray and freezing it over night. On the day of your party, serve your guests' drinks with these patriotic cubes while you watch the fireworks!
Don't forget to satisfy your sweet tooth with all of the American dessert classics the make this country so great.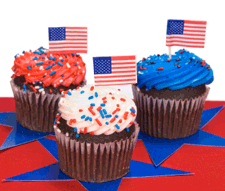 Apple pie à la mode is one of those indulgences that just never gets old. Whether you make it from scratch or purchase it at a bakery or grocery store, just heat up each slice of apple pie in the microwave before serving and top with vanilla or strawberry ice cream.
Try topping it with red, white and blue sprinkles to complete the Americana theme. You can also add a red or blue gelatin mold decorated with whipped cream, or serve a plate of star-shaped gelatin "jigglers" to your sweet ensemble. Just use less boiling water with the gelatin mixture and a star-shaped cookie-cutter to create this amusing snack. And last but not least, decorate a rectangular ice cream cake with red, white, and blue icing to look like an American flag to share with friends and family. Try these ideas, or some of our other party story submissions to cook up a 4th of July menu you'll never forget!