Throw a sparkling 4th of July bash at a location where you and your family can enjoy the sun, celebrate your American freedoms, and ooh and aw at the fireworks after dark. Though many families in the United States hold their Independence Day party at their home with a barbeque, there are many other options for hosting a patriotic gathering or enjoying a magical firework show. Just use your patriotic enthusiasm to keep you motivated and commemorate your country at the public or private location of your choice.
Make a 4th of July splash by hosting a water balloon toss or volleyball game in the yard, in the park or at the beach! July is a great month to take advantage of the warm weather so outdoor games are perfect for family bonding and fun in the sun. The beach is a fun and free option for hosting a fabulous party since you and your guests can enjoy the same great food in a location with plenty of play room for sports and activities, along with the endless ocean for cooling off. If you choose your beach spot well, you may even get a view of a free firework show from the comfort of your beach towel.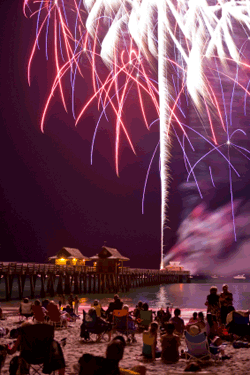 A picnic at the park, barbeque in the yard, and pot luck by the lake are all great inexpensive options for your 4th of July gathering as well. Keeping things simple and stress-free will ensure that your party stays within your target budget while also ensuring that you have just as much fun as your guests. Try passing out goodie bags to each of your guests that contain nick knacks such as yo-yos, party poppers, Frisbees, bubbles, and glow sticks. This will help keep the kids, and even the adults, entertained as they anxiously await the fireworks after nightfall.
If at-home fireworks aren't your style or you'd rather not take the risk for safety reasons, try looking into professional firework shows that are scheduled for the 4th in your neighborhood, city, or another local organization. This is always a great option because you won't need to worry about cleanup; just relax with your loved ones and enjoy the show while munching on snacks or sipping a patriotic beverage. Whatever you choose to do for your 4th of July this year, make sure you keep it safe, fun, and beaming with stars and stripes!